After a long forced break, the party finally starts again. From July 3rd the bunker will be open every Friday and Saturday again!


Due to the ongoing corona pandemic and the associated conditions, the following

rules and instructions must also be observed in the BUNKER:
the number of guests will be reduced, the entrance will be separately at the door. No reservation possible!
for your protection additional disinfection dispensers are placed in the entrance, at the cash desk and in the toilets
please read the instructions in the entrance area carefully and follow them
the entrance area is only to be used for entering, orders and payments
there will be 2 crew members for your welfare and the regular cleaning and disinfection of the bunker
all our crew members are regularly trained according to the current regulations
the music volume is reduced so that you can talk at normal loudness
Events with minimal clothing (naked, underwear, …) are temporarily suspended
visit us only if you do not have any COVID19 symptoms (cough, rhinitis, fever, …)
there is no obligation for you to wear a mask
We strongly urge you to follow these guidelines and hope that you have a good time in the BUNKER despite the restrictions.
---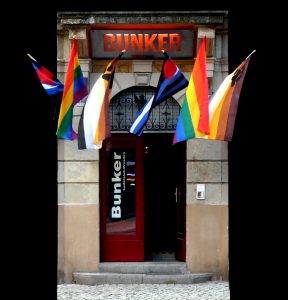 BUNKER, with its 3 different floors, is the #1 place for gay blokes from Dresden and the city's guests at every weekend and before public holidays. BUNKER is the right place for meeting and/or dating someone.
The "heart" of our club is the bar room. There you can make your first contacts, talk, or start to explore the different rooms. The decoration and the equipment are exceptional, camouflage-style, and very functional. You will stay in an oasis provided with military clothes, uniforms, and some special equipment to play. Believe us, you would never dream of finding a place like this whilst passing by the building outside. Come by and make your own experience. We don't want to tell too much.
Our cosy and original BUNKER is a place for easy-going people. It is well-known all over Europe and is highly regarded. Do not be shy. Just ring the bell at the entrance. We are looking forward to meet you.
Please note dates! Events with special topics can have irregular opening hours.