Information on MPX ("monkeypox")
WHAT ARE THE SYMPTOMS?
Fever

Headache, muscle and back pain

Rash, often first in the genital, anal or oral area, then on other parts of the body
WHAT ARE THE MODES OF TRANSMISSION?
Transmission occurs through close physical contact with infected persons, especially unprotected sexual contact of any kind

Condoms do not provide complete protection

Contact with lesions is sufficient for transmission
WHAT IF SYMPTOMS OCCUR?
Seek medical treatment/ sexual health centers/ checkpoint etc.

Avoid close physical (especially sexual) contact.

Cover lesions and wear mask when in contact with others

Avoid public transportation

Standard hygiene/cleaning measures (wash linens and bedding with regular detergent)

Do not share clothing, towels, bedding, etc. with others
All of these measures until lesions have healed and crusts have fallen off.
---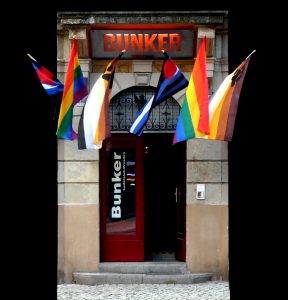 BUNKER, with its 3 different floors, is the #1 place for gay blokes from Dresden and the city's guests at every weekend and before public holidays. BUNKER is the right place for meeting and/or dating someone.
The "heart" of our club is the bar room. There you can make your first contacts, talk, or start to explore the different rooms. The decoration and the equipment are exceptional, camouflage-style, and very functional. You will stay in an oasis provided with military clothes, uniforms, and some special equipment to play. Believe us, you would never dream of finding a place like this whilst passing by the building outside. Come by and make your own experience. We don't want to tell too much.
Our cosy and original BUNKER is a place for easy-going people. It is well-known all over Europe and is highly regarded. Do not be shy. Just ring the bell at the entrance. We are looking forward to meet you.
Please note dates! Events with special topics can have irregular opening hours.